Payment deferral is a familiar tactic to get auto finance customers through financial hardship. What's unfamiliar is how to treat customers at the end of these programs with so much uncertainty in economic outlook, payment hierarchy, employment status and customer financial standing due to the pandemic. So, while you have put out the big fire—extending payment deferrals to affected customers—it is time to look at the next set of actions to take when customers reach the end of their deferments. We'll cover 3 recommendations I made in my latest webinar "Keep Customers in Their Cars."
1. Have Critical Customer Conversations
Communication is critical to understanding your customer's financial situation and specifically, if they're likely to recover. Remind customers every month of the deferred payment and the new due date with options to collect details about their changing situation. You can encourage customers to self-select "opt-out of deferral" if possible or notify you that an upcoming payment is unlikely. Obtaining this information early is key to being prepared for increasing volumes of customers that cannot make payments.
2. Map out your Plans for Each Phase and Population
Be prepared for each customer phase with a program or treatment for each segment of the population. For example, when the shutdowns began, there were current customers in need for the first time and delinquent customers with worsening conditions. For each segment, determine the solution for each and track how they responded such as who paid and who couldn't pay. Having the characteristics of those that paid and those that didn't pay will equip you to learn what worked and will help you downstream. Your current collection strategy for example, might consider how a customer was treated on this path and suggest contacting him earlier than you normally would if he was on a deferral so you can update his status and offer the right arrangements that minimize risk.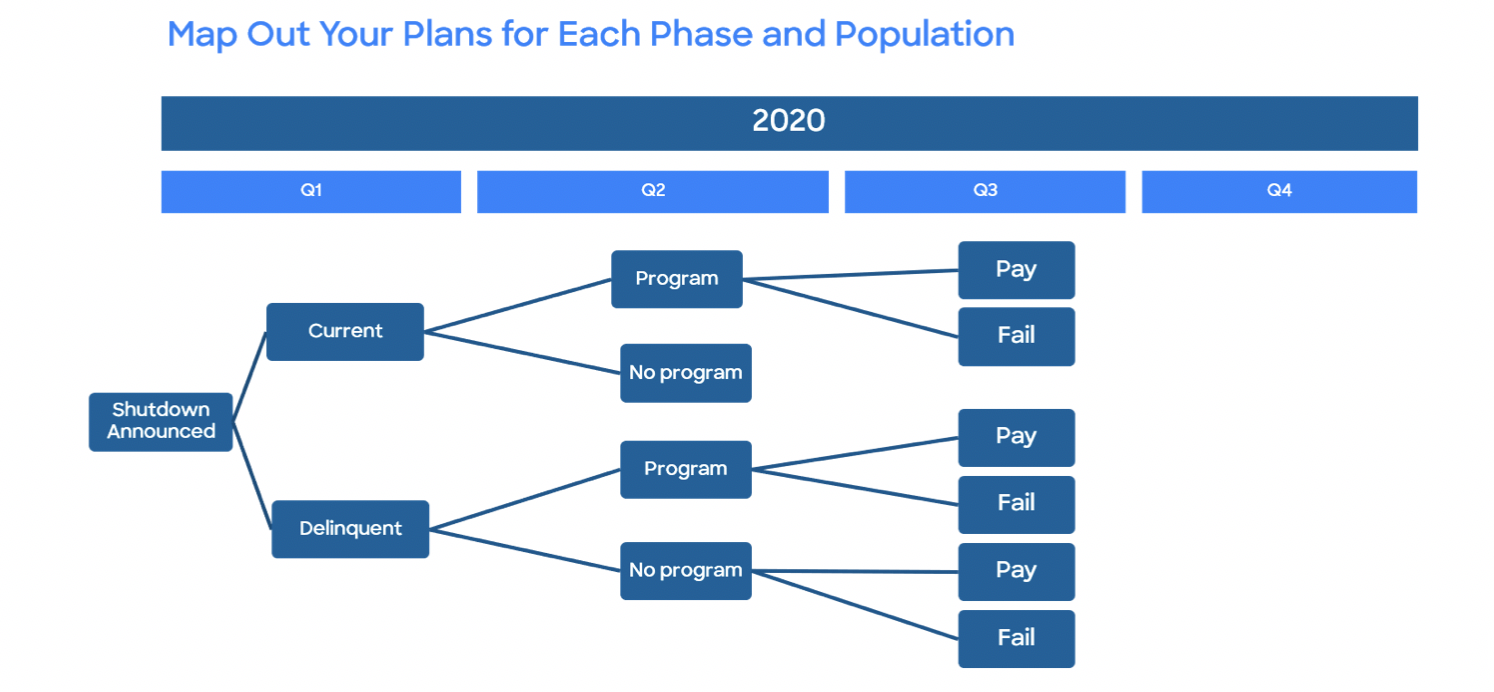 3. Ensure a Strong Governance Structure Around Changes You Deploy
There should be a team that oversees and develops structure around planning documents, execution documents, execution monitoring, reporting, analysis, development of system changes or new system configurations. This can be project management, risk committees or any team that makes sense for your organization's structure and resources.  All new customer communications should be tracked and centrally approved to assure consistency in messaging and compliance to regulations. This is an opportunity to eliminate silos and agree on purpose, objectives, information and strategy. If each team is moving in coordination, you will be able to keep customers in their cars by deploying payment programs and other forms of concession which suit customer needs and minimize the affect on your portfolio profitability in the long term.
View the full presentation where I share steps to build your test plans, actions that other organizations are taking, and more recommendations to keep customers in their cars.