Fraud Protection & Compliance
Recently banks have hit the headlines both for failing to detect money laundering and for freezing the accounts of legitimate customers when money laundering is suspected. Given that sometimes a financial institution can have both problems, it's not simply a matter of lifting or lowering their thresholds for suspicion.
Banks are treading a fine line – if they are over-zealous, they risk damaging customer relationships, but if they are not rigorous enough, they can enable criminal activity and fall foul of regulators.
These issues seem to be universal across the banking industry, as an Ovum survey of those that work in AML at UK banks found:
83% say a major business concern is the risk of reputation damage from failures to tackle financial crime
67% say that managing a high workload due to the defensive filing of suspicious activity reports is a significant pain point
It's a challenging environment and all too easy to get the balance wrong, but there are strategies that banks can take to improve matters.
Moving the Threshold Doesn't Solve the Problem
Whether you're freezing accounts because you wrongly suspect money laundering or missing real cases of financial crime, it's all a matter of accuracy. Many organizations respond to too many false positives or false negatives by simply moving their threshold for suspicion:
When they find themselves under-reporting crime, they will lower the threshold, which increases AML false positives and the number of legitimate accounts they freeze.
If worried about the number of legitimate customers they are inconveniencing, they will lift the threshold for suspicion and miss more crime.
As the diagram below shows, even with the threshold for suspicion poised equally between AML false positive and negatives, there is still the same amount of inaccuracy. Moving the threshold simply decreases one at the expense of the other.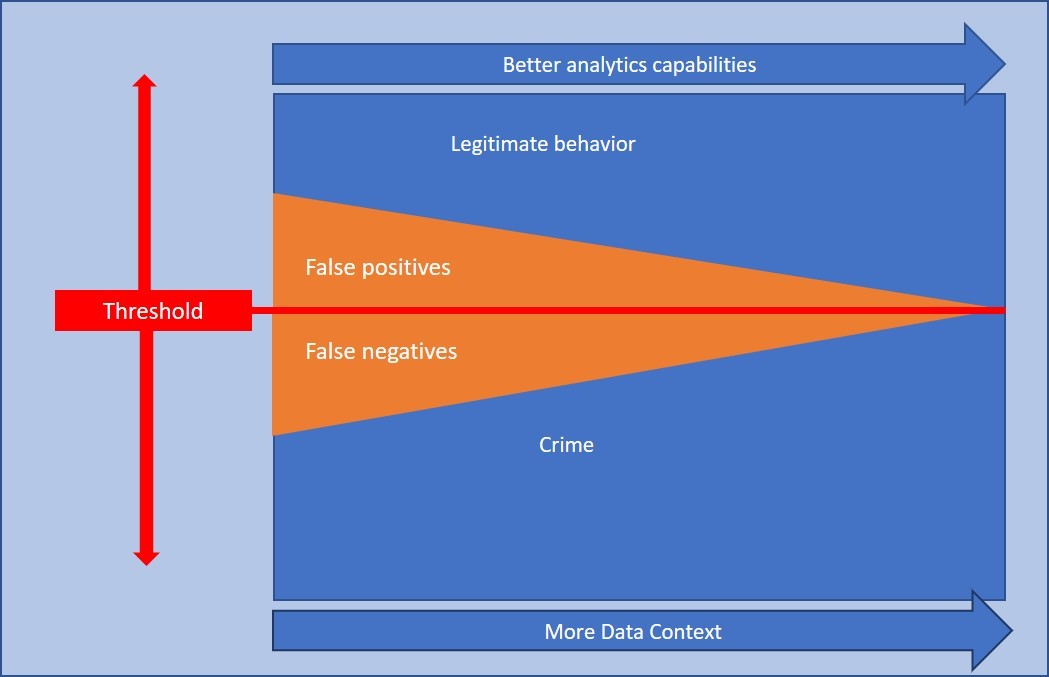 Solving the Problem Requires Analytic Accuracy
This is one of the reasons we launched Falcon X.  As regulators around the globe have moved to encourage organizations to develop and embrace innovations that improve AML performance, Falcon X delivers:
AI and machine learning models that are designed to detect money laundering accurately.
AI that is explainable to meet the demands of a regulated environment
The ability to quickly test and deploy FICO models, models developed by your data scientists and models from 3rd parties.
Data orchestration that allows you to easily add any data source to any decision.
Application of Robotic Process Automation to further improve detection rates so teams can focus on the areas of highest risk.
Want to learn more? Discover the new capabilities in Falcon X - a solution for fraud management and financial crime compliance.