With more than 1.7 million customers and 50,000 businesses, Yarra Valley Water is Melbourne's largest water and sewerage utility. From day one, it has sought to provide timely and excellent customer service, culminating in, among other enhancements, the development of its easyACCESS system to automate its development application process. The project has seen the company win a FICO® Decision Management Award for Decision Management Innovation, and we're thrilled to have Yarra Valley Water telling its story at next week's FICO World, to be held in Washington DC on April 26-29.
As I worked with Stuart Squires (system manager for Yarra Valley Water), Rhonwyn Colley (director for Wise Technology Management, who were key to the implementation and deployment of easyAccess) and FICO's Jeremy Chen on the presentation, I was struck by not only how the FICO® Decision Management Suite technology was the core analytic and technology driver behind the success of easyAccess, but also the effect of the system's adoption – and the efforts of Yarra Valley Water management – on the company's culture. In fact, over the last decade or so, the company has "developed a vibrant workplace culture, high levels of engagement and robust workplace practices," per its most recent annual report. Per the report, Yarra Valley Water uses several workplace culture benchmarking tools, including The Human Synergistics Organisational Culture Inventory (OCI), which incorporates company-wide surveys to determine prevalent cultural behavioral styles.
According to Stuart Squires, Yarra Valley Water's department that utilizes the easyACCESS system achieved a top-level OCI outcome, shown in the diagram below (and discussed in greater detail at this year's FICO World session). In just two years – and coinciding with the deployment and impressive results of easyACCESS, as well as other business-wide improvement initiatives – the department's cultural upswing has been astounding. Stuart mentioned, "As you can see on the left hand diagram, before easyACCESS was released, we had a culture that in worldwide terms was a good result. But we wanted to be a leader. As you can see on the right-hand diagram, there's been a transformation, where minimizing non-value work has been one of the key drivers. This allows our people to focus on customer-centric activities and empowers them to be the best they can be – which also has a substantial, measurable impact on our bottom line as well."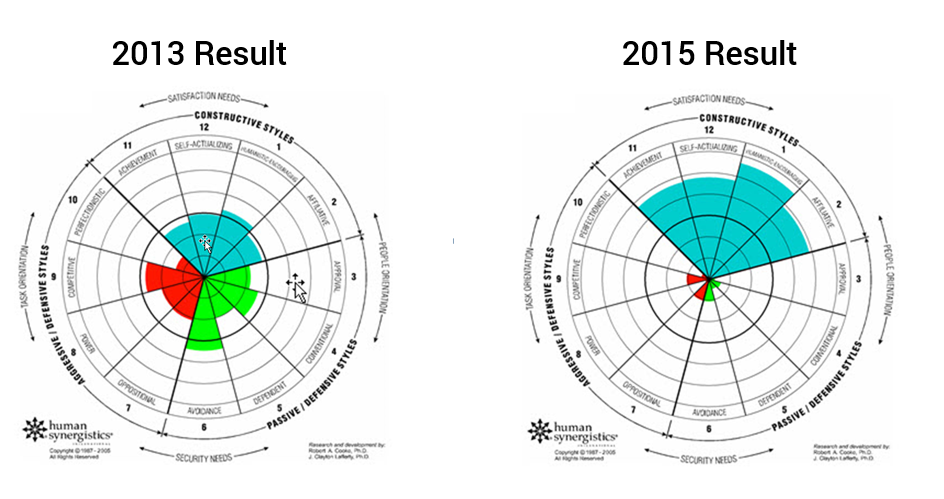 The OCI survey (shown above for Yarra Valley Water's Development Services Department, both before and after easyACCESS went live) groups behavior in three styles: Constructive, Aggressive Defensive and Passive Defensive. Constructive styles emphasize achievement of realistic stretch targets, an open, honest and collaborative approach and high levels of personal satisfaction. Yarra Valley Water's constructive styles are now at or above the 83rd percentile while defensive styles are all below the 10th percentile – all world-class results that reflect highly motivated, supportive, and positive work interactions.
If you're interested in attending this session or the other 80+ sessions at this year's FICO World, it's not too late to register! Just visit http://www.fico.com/en/ficoworld/ for more details. And if you're already registered, or about to, the Yarra Valley Water session, "Yarra Valley Water Transforms its Developer Application Process with Decision Rules Management" will be held on Wednesday, April 27, from 3:30-4:30 PM EST.