There's isn't an industry in the world that hasn't been impacted by digital disruption and digital transformation: from banking and insurance to snow plowing and dog-walking, the ways customers are finding, comparing, and selecting products and services is constantly changing.
And so has the notion of "customer loyalty": switching from one company to a competitor has never been easier. Today, every customer is now one dissatisfied transaction away from defecting, taking a lifetime of potential revenue with them.
In SWOT terms, this is a double-edged sword, posing both a "threat" and an "opportunity" for insurance companies. The number of insurance consumers who are "at-risk" has risen to its highest level since the metric started being tracked 20 years ago by J.D. Power. Consumer complaints about insurance companies are at an all-time high, with customers frequently citing impersonal, disconnected service experiences as a reason they defect.
To help understand this industry churn, Digital Insurance – a leading publication serving the insurance automation and decisioning industry – conducted a survey of insurance industry executives, asking them to share their companies' concerns about digital disruption and their progress towards digital transformation.  The results of the survey were both illuminating and sobering.  For example,
81% of insurers believe that digital disruption poses a threat to the industry
In every category measured in the survey, Health and Life insurers were significantly more confident in their digital transformation progress than Multi-line and P&C insurers
In terms of data democratization, 65% of Health and Life insurers reported that they have empowered business users, versus just 35% for Multi-line and P&C insurers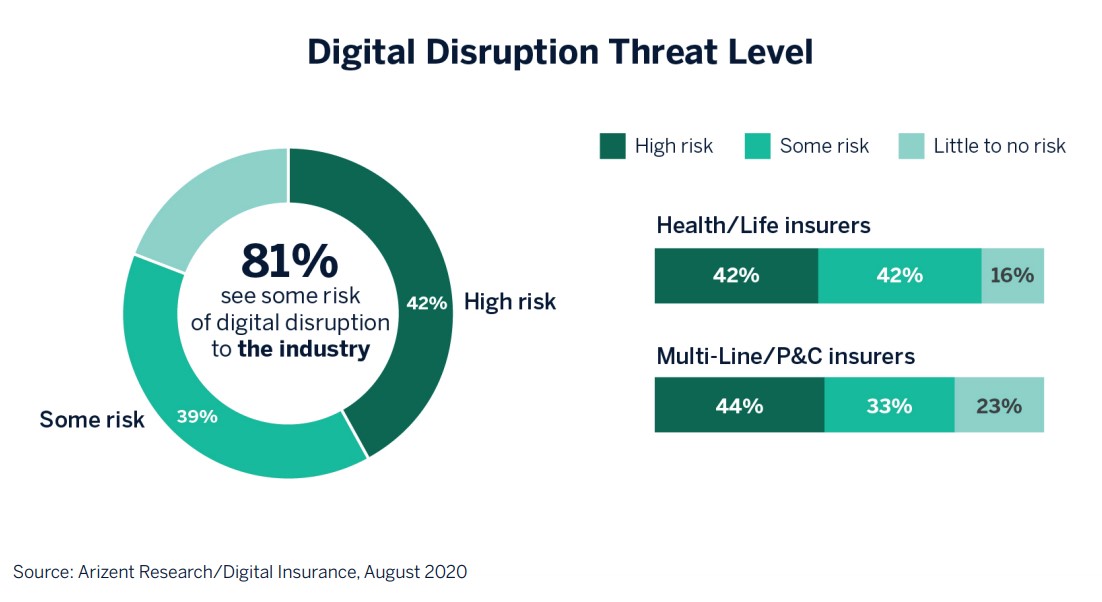 The Digital Insurance survey revealed that the real challenge insurers and other industries face is building an omnidirectional, all-encompassing view of their customers, the prerequisite to increasing customer satisfaction, retention, and share-of-wallet. In most cases, the data they need exists and is already somewhere in-house; the problem is that it is sitting in disassociated siloed applications scattered across the org chart. For example, the homeowners' insurance department might have a policy in the name of Chris Smith at their home address; the auto insurance group has a policyholder named C.J. Smith at the same address; the business group has a business address where the owner is named Christopher J. Smith, etc.  
If a company could combine all of its customer records and make their data interoperable across these and other lines, it could gain powerful insights in each customer's behaviors and future needs… and build automated, hyper-personalized strategies for increasing lifetime share-of-wallet for each. That is the key takeaway of the recorded webinar, which can be viewed at:
https://www.fico.com/en/latest-thinking/webinar/present-and-future-insurance
Similarly, the Digital Insurance special report provides an excellent narrative for how this customer centricity can be achieved.  It includes practical advice from industry insiders on achieving digital transformation goals, including expert commentary from two companies highly regarded for their digital transformation success, Mercury Insurance and Reinsurance Group of America (RGA). 
For years, FICO has been a leading provider of decisioning solutions for the insurance industry, helping carriers around the world make smarter, faster, more profitable customer decisions. Our customer portfolio reads like a Who's Who of some of the largest and most innovative insurance technologists in the industry. 
Learn more: