Small banks and credit unions need to increase profitability, advance competitive positioning, and improve the customer experience to better compete with fintechs and large banks who leverage AI for decisioning. This is difficult to achieve without taking on more risk, spending a lot on marketing, or undertaking big and challenging technology projects.
The Daunting Challenges for Small Lenders
Many small financial institutions are stuck with business-as-usual, stagnant, data and analytic-poor strategies. They often believe they can't benefit from (or afford to use) advanced analytics powered by machine learning. The common origination challenges we hear from small lenders are:
We need to find more "good" customers.
We need to more accurately manage risk.
We are having a really hard time competing with big banks and fintechs.
We need to drive better profitability and business results.
And the frequent analytic implementation challenges we hear are:
We have gaps in our data—and what have is often unreliable.
Vendor solutions are too expensive or complicated for what we need.
We're short on analytic and IT resources.
It takes too long to implement new models or rules with our current technology.
These daunting—yet very pressing and real—challenges simply cannot be ignored. The quickly changing landscape can easily let small lenders fall behind and fail as larger intuitions accelerate their use of AI and compete aggressively. Many smaller banks believe their personal 1:1 relationship with their customers will allow them to continue with business as usual. Is this approach working?
The Problem with Business as Usual: The Frightening Facts & Stats
Fintechs offer highly compelling, innovative customer experiences. In fact, 80% of credit union customers would consider switching to a fintech. https://www.pymnts.com/innovation/2019/bank-credit-union-fintech-financial-competitors/
So-what insight: If you are a credit union or small bank, it's time to act…or continue to lose share to aggressive competitors.
 
Realtime advanced analytics is reaching the mainstream. To illustrate, 87% of banking executives agree that the integration of customization and real-time delivery is the next big wave of competitive advantage: https://www.accenture.com/us-en/insights/banking/technology-vision-banking-2019
So-what insight: AI is great, but if you can't deliver insights or actions in real-time, you risk falling behind.
 
It's no surprise, but banks (generally) don't provide great customer experiences. The banking industry is near the bottom of Net Promoter Scores, which measure the loyalty of customers across industries: https://temkingroup.com/product/net-promoter-score-benchmark-study-2018/
So-what insight: There is a huge opportunity for improvement and innovation in digital customer (or member) experience. And, this is where smaller banks and credit unions can shine and outperform larger, better-funded organizations.
Adding Affordable, Scalable Analytics with Machine Learning to the Arsenal
Digital transformation through analytic weaponry is imperative for small banks and credit unions. In an ever-dynamic, uber-competitive environment, smaller institutions must: 1) increase profitability; 2) improve competitive positioning with advanced analytics; and 3) improve the customer and member experience.
To fit that tall order, smaller financial institutions need affordable, scalable advanced analytic tools powered by machine learning in their origination arsenal that: 1) provide fast time-to-value; 2) require a small upfront investment; 3) augment limited (or non-existent) analytic resources and data.
How is this possible? FICO has developed new, fully managed scoring services that take the "heavy lifting" out of the equation and integrate with your existing Loan Origination Systems (LOS) to provide rapid time-to-value at a lower cost than an enterprise custom scoring project. We combine your unique customer data with our best practice credit scoring models (that are powered by machine learning) to provide you with additional scores that complement our industry standard FICO® Scores and help you to better meet your specific business goals and improve the customer experience. The benefits?
High-Quality Decisions: Improved risk management that is enabled with data and analytics, combining risk scoring models with credit policy rules.
Innovative Analytics Drive Automation: Turnkey cloud solution and webservices deliver rapid time-to-value and a better borrower (or member) experience.
Best Practice Access: Use off-the-shelf models and strategies powered by FICO's world-class innovation and expertise.
Low Cost & Rapid Adoption: Webservices allow for rapid integration with existing systems and transactional, tiered pricing for strong TTV and ROI.
Fully Managed: Proactive analytic services and reports push important information to business teams.
Show Me The $$: An ROI Scorecard
Smaller financial institutions face intense scrutiny to show compelling returns on their technology investments. An ROI scorecard to evaluate new analytic approaches might include these goals and desired results: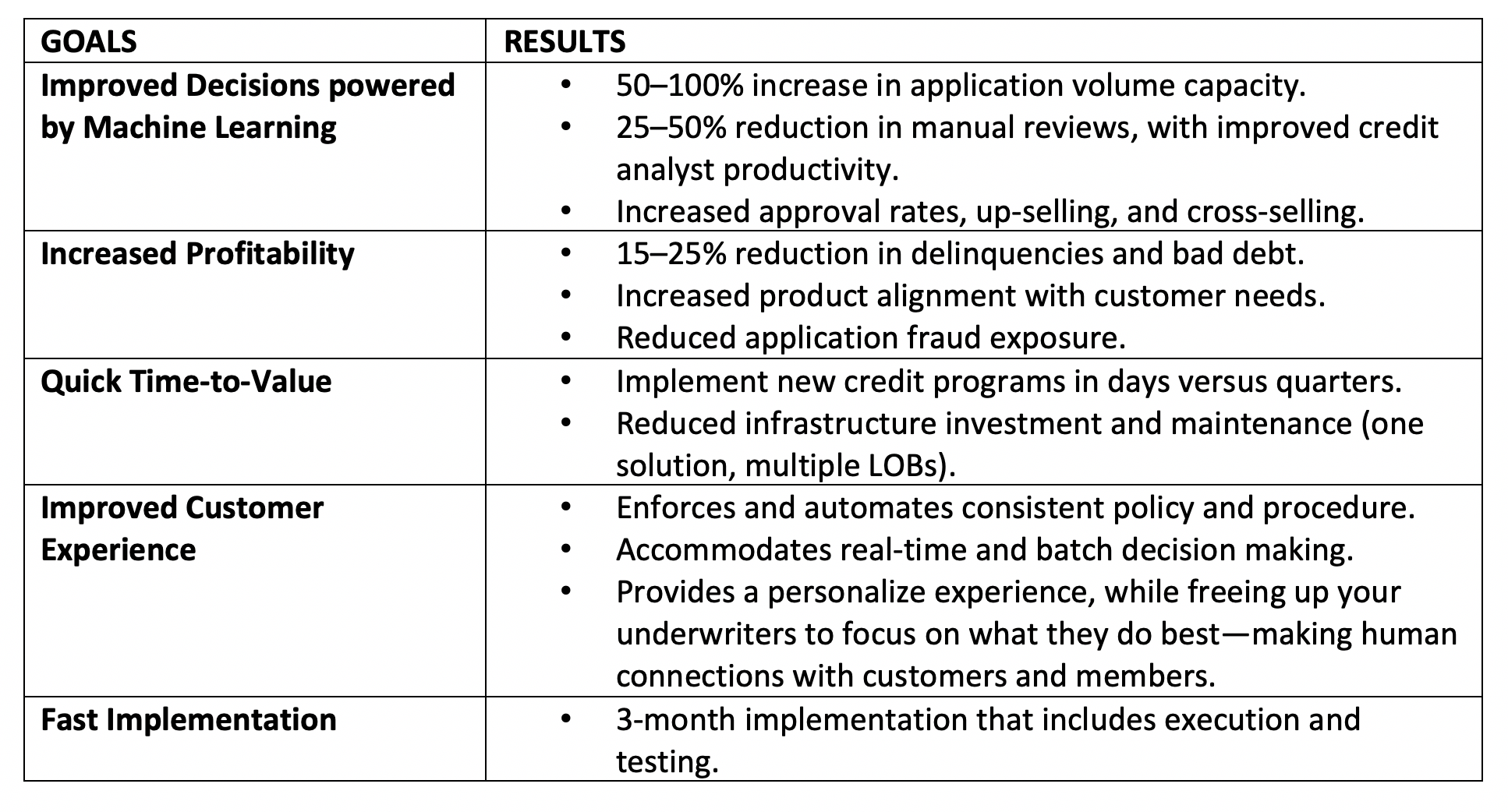 Small lenders should use these metrics like these to evaluate solutions and providers, asking the hard questions to prove out value for their organizations. To learn how FICO's Decision and Scoring Service (DSS) can fortify your origination and AI, ML, and Advanced Analytic arsenal, contact us at info@fico.com or visit https://www.fico.com/en/solutions/analytics-and-optimization/cross-industry/decision-scoring-service.