Financial services partners know that their clients are under increasing pressure to remain competitive, particularly when it comes to giving their end-customers the best experiences across the full lifecycle of engagement. Whether it be approving a new account application, preventing fraudulent behaviour on their accounts, or providing a considered approach to collections, financial services institutions need to be able to interact with customers in a manner of their choosing, and at the times that suit their personal preferences. But for many institutions, the ability to offer the latest, cutting-edge customer communication solutions is beyond them, primarily due to cost constraints, or because their legacy technology systems are not fit for purpose.
This is where specialist financial services partners can help their clients by partnering with them to deliver an effective customer communications strategy and ensure they remain competitive.
The customer communication solutions that financial services partners provide must offer best-in-class technology, with easy implementation, ongoing management and ultimately tangible results.
So, what are the problems that require a compelling customer communications strategy, that partner technology providers can help their clients solve? There are four specific challenges that financial institutions face:
They're giving customers an inconsistent experience. Digital communications options vary across the customer lifecycle, whether it's for onboarding, account notifications, fraud alerts, or collections. It's neither consistent nor comprehensive.
Operational efficiency is poor. When automated communication solutions are ineffective, people become the first line of response, increasing cost, or leaving customers unheard and negatively impacting the customer experience.
Communications are not truly multi- or omnichannel. Insufficient communication options and the inability to flexibly deploy them as needed can lead to customer dissatisfaction and an over-reliance on non-urgent channels even when a faster customer response is required, for example in the case of suspicious activity on an account.
Communication strategies aren't smart. Without machine learning models and automated rules for each customer, communication strategies can become imprecise and often inappropriate.
For financial services partners that need to help their financial institution clients address these challenges, FICO Customer Communication Services can help your clients meet customer expectations for seamlessly individualized dialogues, anytime, anyhow, at scale, and with maximum operational efficiency.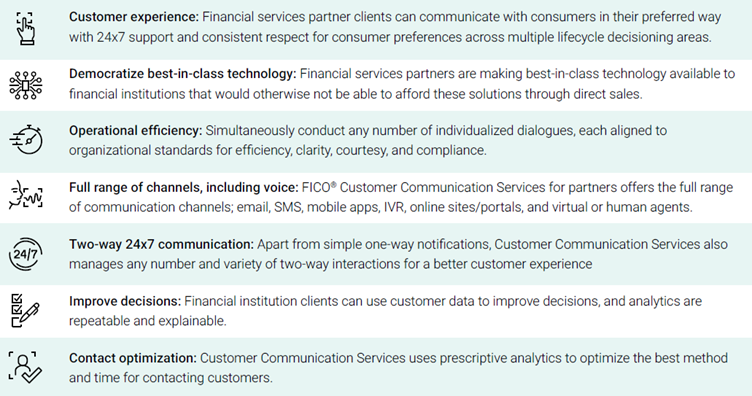 Whether the aim is to complete an onboarding process, send a notification, collect a payment, or verify a suspicious transaction, FICO Customer Communication Services provides the ability to offer different communication solutions across the customer lifecycle.
Case Study in Communications
PSECU, a United States based credit union, was able to offer their customers different communication solutions for origination, account service notifications and collections. Working with Customer Communication Services has improved the PSECU customer experience and changed the credit union's perspective on communication.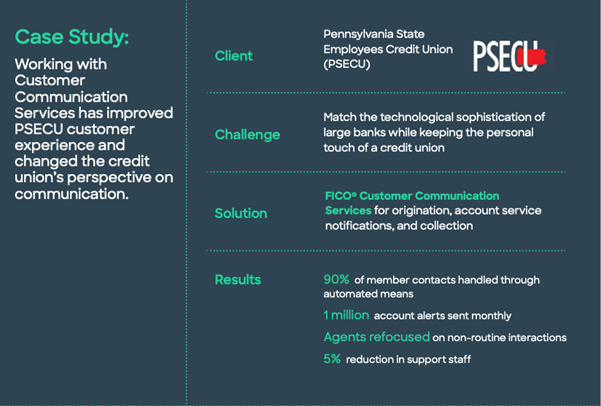 "Previously we had been operating on a strategy of using an alert to encourage members to log in to get the full story," said Nathan Green, the company's Digital Experience Analyst. "Now, we use alerts to help members feel like they know what is going on without having to log into their account and check on things."

How FICO Can Help You Meet Customers' Communications Needs