My telecommunications service provider put me through two hours of customer service hell when I was upgrading my set-top box. What should have been a simple plug-and-play switchover turned into an arduous journey through various customer service units. At no stage did I get the impression that there was a central location for my data, as I had to repeat my address and account details several times and rerun security checks across automated and human channels.
This kind of friction in the customer experience is all too common, no matter what your spend with the provider. It is little surprise that UK service providers' churn rates for multi-play packages can be up to 20% per year, with the cost to recruit a customer approximately £300 to £400.
Compare that experience to digital-first companies like Amazon and Apple, which have remarkable stickiness and growth, where the experience is frictionless and most issues are resolved quickly. I think you can appreciate the difference.
Back in 2011, Gartner made the bold prediction that 85% of customer interactions would be managed without human intervention by 2020.  This may have seemed a likely scenario back then with the rise of artificial intelligence, but today this goal looks far off. Customer service is still a global problem across industries — not just in telecommunications.
But Gartner was right from one perspective: The winners in customer experience will be those that aim for 100% automation, and perhaps end up in 2020 at 85%. Getting your digital strategy right will determine whether you're one of those winners — or one of the losers.
Which of the following categories do you think your company is in?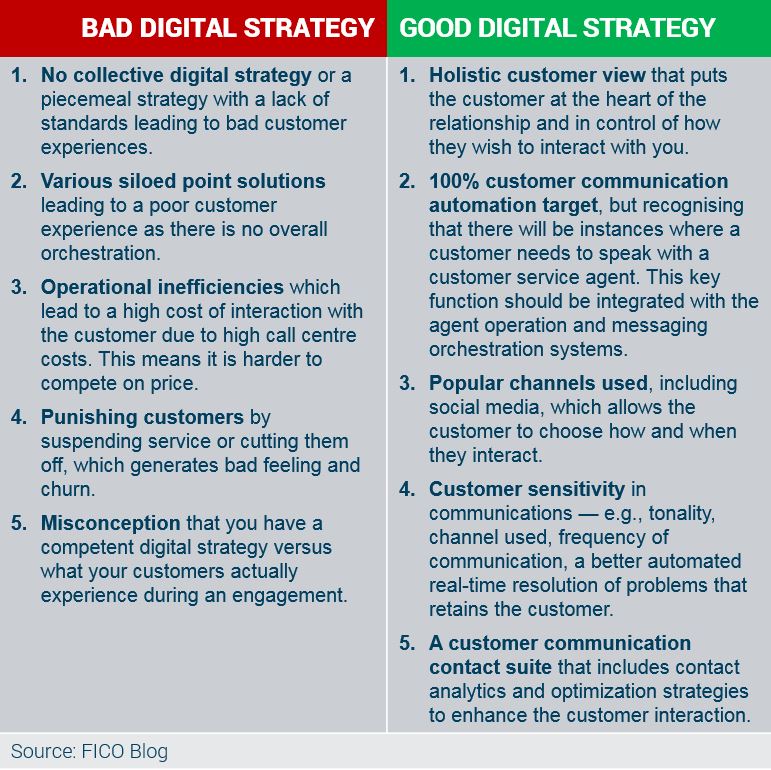 The takeaway: It's impossible to have great customer experience without digital transformation, and digital customer-first strategies lead to a frictionless experience.
Whichever category your digital strategy is in, FICO can help at the different stages of your digital evolution. FICO can create frictionless customer journeys across customer on-boarding, fault resolution, upsell of additional products, credit checking, marketing and customer engagement, payment resolution, debt management, analytics and optimization of processes.
Today, FICO engages in more than 2 million automated conversations per day across automated outbound and inbound channels. One of the leading global telecom providers, for example, has used one of our products to reduce its cost of collection by 50% and improve its Net Promoter Score.
Meanwhile, I'm dreading receipt of the next release of the set-top box…