It used to be that KPIs for the fraud department focused only on loss prevention, aligned to the amount of fraud stopped and money saved – this is no longer the case. Fraud communications and other interactions are increasingly seen as a vital part of the customer experience.
In a recent survey, we asked heads of fraud where they thought the most revenue was lost. Almost half reported that the amount lost to poor customer experience, as a result of false positives, was higher than the amount lost to genuine fraud.
Fraud departments that step up to play their part in customer retention and satisfaction are transforming themselves on the balance sheet to a revenue-generating center. To this end, today's fraud department is likely to have additional targets that include:
Customer satisfaction
Reduced false positive ratios
Reduction in cost of operations
Target levels of automated fraud communications (to remove friction from the customer journey, improving customer experience)
Customers expect to interact on a number of new channels and there is little tolerance for friction or disruption. And when a process goes wrong, customers don't see the process at all, they see the brand making their life difficult. Take having a payment declined, when trying to rent a car abroad, for example.
Those businesses that don't respond to consumer demand for convenience will ultimately fail. We've already experienced this; once-ubiquitous brands such as Blockbuster and Woolworths have disappeared. Conversely, those that offer a friction-free customer experience prosper; Netflix, Amazon and Monzo are some examples.
What Interactions Can You Automate?
The fraud team can inadvertently block a smooth customer journey, but automation helps by:
Making alerts to suspected fraud fast and appropriate. This is done by using automated channels to contact customers with fraud communications on their preferred channel. Because there is no need to wait for a human operative to take action, disrupted processes can be put back on track quickly.
Giving customers more control. Automated methods allow them to make decisions that make their lives easier — for example, to freeze a card, or prove a transaction is legitimate and allows it to proceed.
Letting customers use the channels they love to access other areas of the bank quickly. For example, customers can use touchID to authenticate when trying to start a conversation with an agent in telephone banking.
We have found that customer satisfaction has increased in those banks that deploy higher levels of automation in fraud management. Customers appreciate the visibility of such fraud control and insights into their account activity, particularly when they can see that their bank is reacting immediately to threats. Rather than view such controls negatively, customers are likely to view them as proof that their bank is taking necessary and timely action to protect them, whilst giving them technology that they love to respond quickly and easily.
Despite the focus on customer experience, the fraud department must still meet objectives related to identification of customers and resolution of fraud cases. Fortunately, we found that the role of automation is equally important in delivering this. We have seen a direct correlation between the amount of automation and the overall resolution of all fraud cases. The more channels and processes that were automated for fraud management, the more likely it was that a case would be fully resolved, even outside of the automated channels.
How Many Interactions Are Fraud Departments Automating?
Despite the clear benefits of automating fraud interactions, there is a wide range in the amount of automation deployed, as shown below.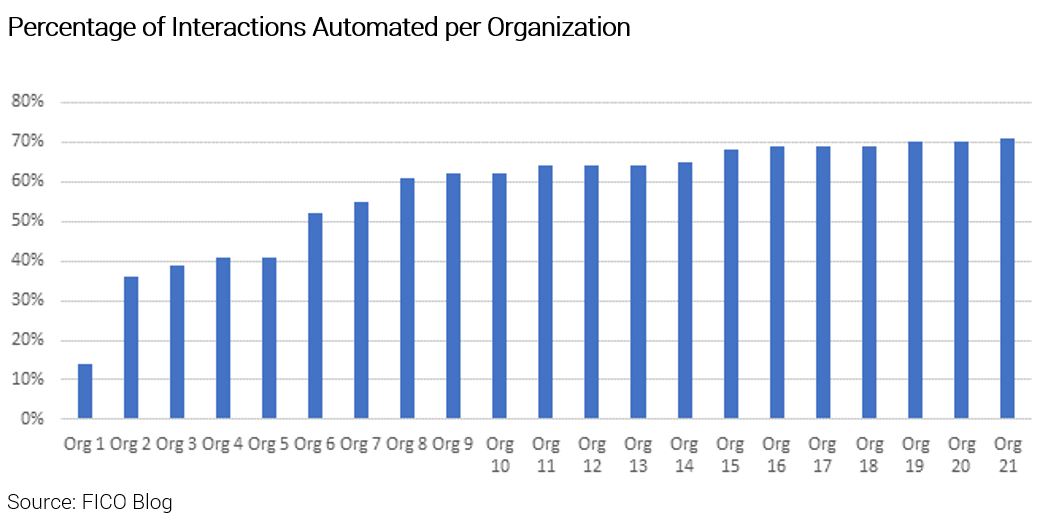 Since automation improves both customer satisfaction and case resolution, those at the lower end of the adoption scale are taking a big risk. The reputation of their brand, the value of their organization and ultimately their own jobs are at risk – a fraud department that is not performing is a candidate for outsourcing, and we have seen this happen.
There are legitimate reasons why some organizations have not yet embarked on fuller automation programs. They may have concerns about the security of automated channels or had negative customer feedback about a previous attempt at automation. In my next blog post I will write about these challenges and how they can and should be overcome.