As the adoption of EMV chip card technology has fueled a move to card not present (CNP) fraud, FICO analytic scientists are keenly focused on improving FICO® Falcon models' CNP fraud detection. Specifically, the team has focused on early detection of fraud on events with significant financial risk, such as high-value CNP fraud, as well as driving significant improvements to overall value detection.
In early 2019 we rolled out our highly effective new high-value fraud CNP models to better combat fraud around the world. These models balance account and transaction-level fraud detection. Now, clients have asked FICO to focus on new analytic technology to improve detection on lower-value CNP fraud.
Update on Work in Progress
FICO has listened to this client feedback and is incorporating new low-value CNP machine learning into all models to be released in 2020. These enhanced models, which incorporate specific analytic technology to improve model performance for low-value CNP fraud, are currently being developed, first for UK/Ireland and Europe. I am delighted to share an early view of expected performance improvement for these models, which are in mid-development.
The graph below illustrates the markedly improved performance in low-value account detection rate (ADR) obtained in the UK/Ireland Debit v18 model over the performance of the prior year's model – a relative lift of 18% to 19%!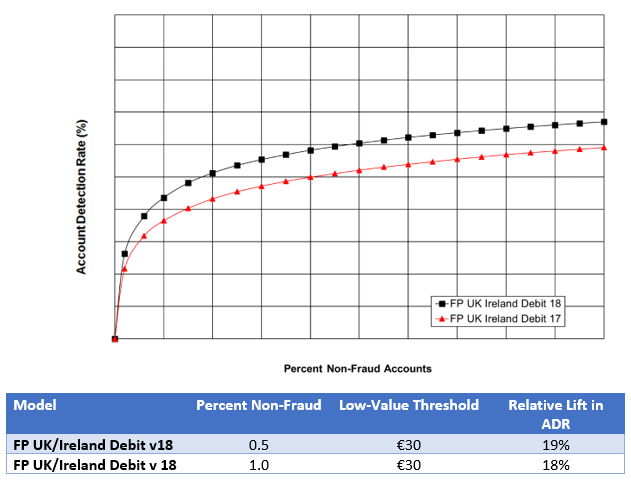 Ready for PSD2
This additional protection in our Falcon models will be increasingly important as the payment card industry focuses on implementing PSD2. While PSD2 will require strong customer authentication for high-value transactions, there will be exceptions for payments up to €30, with no mandated strong authentication.
Low-value testing transactions have long been a favorite for fraudsters to validate the usability of card information; the varying thresholds of PSD2 creates opportunity for the fraudster to execute transactions just below the strong customer authentication (SCA) threshold. FICO has taken this into account, measuring the effectiveness of models in current development at various value thresholds.  As charted below, relative lift on the Falcon credit model has improved by 25% to 26%.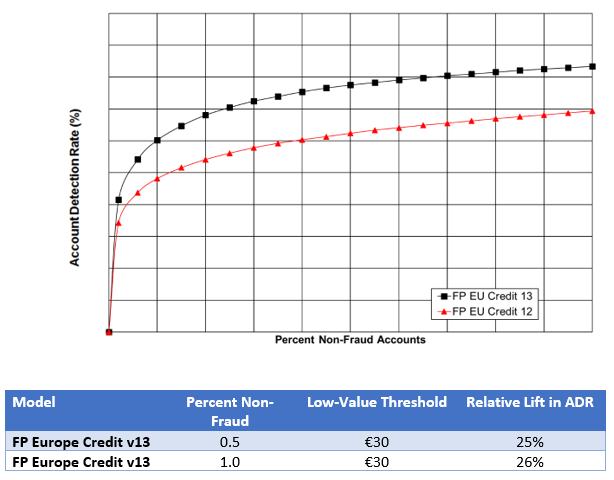 Onward and Downward
As part of FICO's ongoing development of models for all markets, we will incorporate strong performance on low-value CNP fraud, along with the already improved performance in high-value CNP fraud detection. As we strive to drive down both high- and low-value CNP transaction volumes, customer experience will improve while fraud losses decrease. A big thank-you to FICO customers for their attentive feedback and direction on where to focus our innovation efforts.
Follow me on Twitter @ScottZoldi.