Rome wasn't built in a day. And neither was the FICO® Falcon® Intelligence Network, the industry's richest repository of legitimate and fraudulent payment data. But unlike crumbling ancient Roman ruins, the Falcon Intelligence Network, FICO's fraud consortium, is stronger and more vital today than ever. Its detailed consortium data is not only one of FICO's secret weapons for fighting card fraud, but also fraud that proliferates across every payment channel, from mobile, to card not present, to person-to-person (P2P) and more. Consortia data is a key functionality trend for next generation Fraud and AML Machine Learning platforms.*
What Is the FICO Falcon Intelligence Network?
The Falcon Intelligence Network is FICO's enormous data resource composed of anonymized transactional and non-monetary data regularly contributed by over 9,000 financial institutions worldwide. This fraud consortium is unique to the financial services industry and is at the core of FICO's ability to innovate and create the most effective analytic and AI techniques and models on the market today. Across all transaction channels, our models achieve their foremost goal: to differentiate non-fraud from fraudulent activity with pinpoint accuracy.
The data riches of the Falcon Intelligence Network are used to protect more than 2.6 billion payment accounts from being hit with fraudulent payments activity. This data also provides the ingredients for the FICO fraud and financial crime solutions, to fight fraud and financial crimes for the enterprise, across all payment channels, and across the customer lifecycle.
Want to gain some insights into our secret sauce? Here are four critical capabilities:
Data-Fueled Analytic and AI Innovation
FICO's fraud consortium data is never stagnant or outdated; it's continuously refreshed. From this abundant source, FICO's data science organization carefully extracts subsets to fuel development in four areas, illustrated below.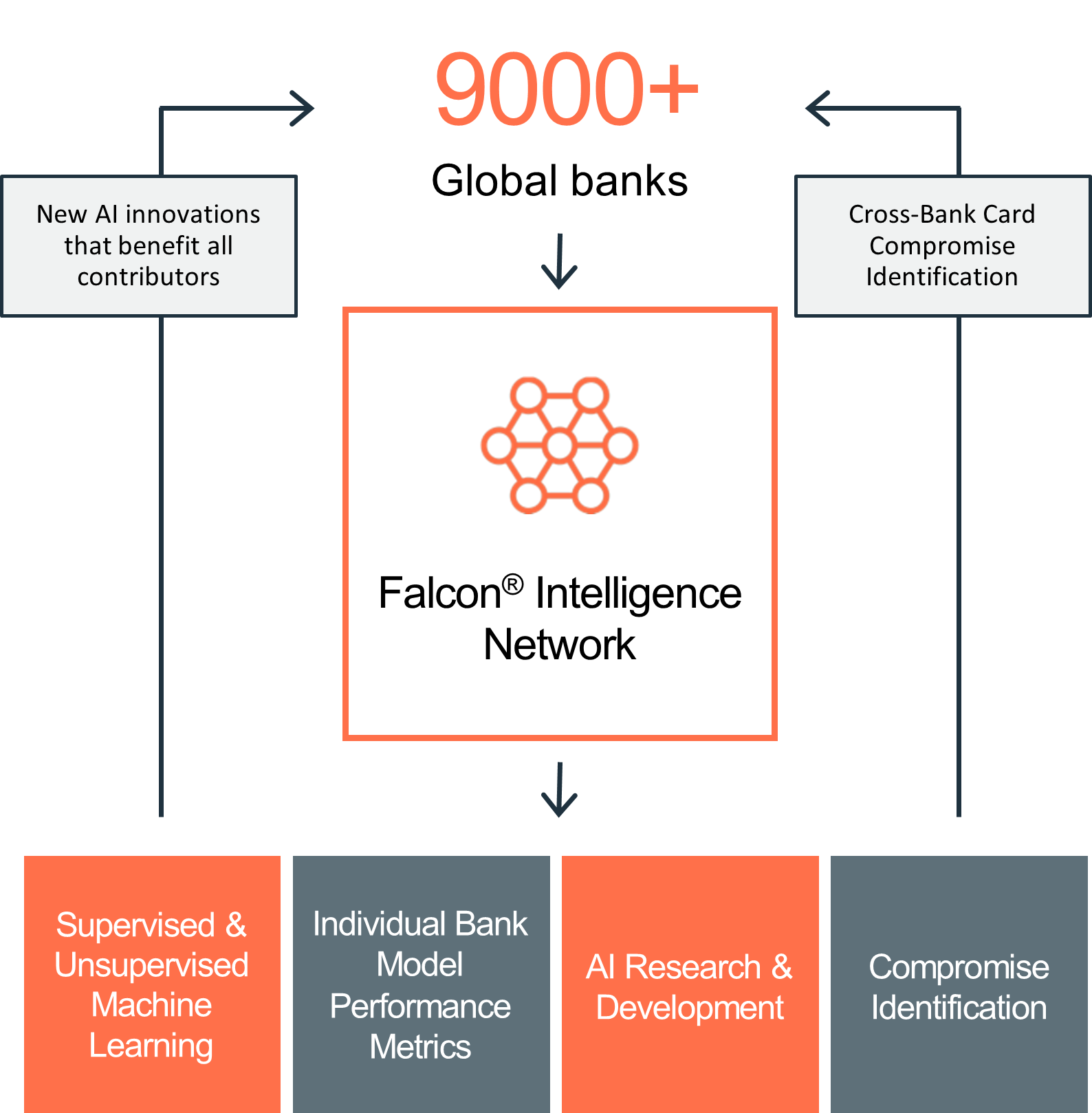 Machine learning models: FICO uses anonymized transactional and non-monetary data to create machine learning algorithms that inform behavioral analytics, to reduce false positives while interpreting even the most subtle indications of fraud.

The resulting models work with Falcon's real-time profiling techniques to interpret individual behaviors, while benefitting from macro-level fraud patterns derived from data contributed through the Falcon Intelligence Network. We leverage these approaches in the development of FICO's supervised fraud models as well as unsupervised and semi-supervised models that are trained on bank-specific data.

FICO's unsupervised models differ from supervised models because they are not trained on labeled target behavior – i.e., tagged fraudulent card transactions – but instead use techniques that find outlier behavior, that is, potential new fraud behavior in new payment schemes. FICO's chief analytics officer, Dr. Scott Zoldi, unpacks unsupervised models, which he refers to as "little crystal balls" in this great blog post.
 
Performance benchmarking: FICO provides cloud-based model performance benchmarking dashboards that banks and card issuers can use to assess their fraud management strategies. Benchmarking data model performance identifies whether the model is degrading, whether data quality is impacting detection and help identify where you might have room for operational improvements. Benchmarking fraud detection models' performance is important to verify that a specific model's performance met, exceeded or did not meet the expected results for your organization's overall fraud strategy.
 
AI research and development: FICO's data science organization, led by Dr. Zoldi, leads the industry in innovation, having produced more than 100 patented AI and analytic techniques specifically for fraud and financial crime. These innovations are directly applied across our product portfolio, giving FICO a unique understanding of enterprise-level, cross-channel fraud.

We apply this behavioral "lens" on enterprise fraud to quickly spot a wide range of emerging fraud types, which can arise in days, minutes and even seconds. FICO offers industry-leading capabilities for stopping real-time payments fraud, detecting CNP fraud faster in the credit card channel, and stopping mobile payments fraud by gaining a 360-degree view into customer activity, to name just a few.
 
Compromise identification: FICO also uses the Falcon Intelligence Network to identify compromised points of purchase (CPP). FICO® Falcon® Compromise Manager harnesses the power of consortium data to proactively detect compromised merchants, ATMs and data breaches, and alert fraud teams. This solution, a companion to the FICO® Falcon® Fraud Manager, mitigates cross-channel fraud exposure by analyzing and detecting likely compromised cards from card present, CNP and ATM transactions.
Bigger Is Better
The examples above clearly show the real-world value of the Falcon Intelligence Network: fraud models that are developed and trained using data from thousands of institutions will be more accurate than models that rely on a relatively thin dataset, such as transaction data from a single bank or issuer. The Falcon Intelligence Network is a fraud consortium unique to FICO, and just one of the many ways we lead performance and innovation in the fraud management industry. Our customers agree.
Follow my news and views on Twitter @dougoclare.