FICO Named Category Leader for Enterprise Fraud in Chartis Report
Fraud Protection & Compliance
SAN JOSE, Calif. — December 4, 2018
Highlights:
Chartis named FICO a category leader in enterprise fraud in its new Market Update
Ranking reflects depth of functionality, geographic coverage and strategy.
The FICO® Falcon® Platform protects 2.6 billion payment vehicles worldwide
FICO, a leading analytics company, today announced that it has been named a category leader in enterprise fraud in the Financial Crime Risk Management Systems: Enterprise Fraud; Market Update 2018 report from research firm Chartis. Among other themes, the report considers the rise of technologies such as machine learning (ML) in fraud detection, and assesses the top providers worldwide.
A companion report, Vendor Analysis: FICO (Financial Crime Risk Management Systems: Enterprise Fraud; Market Update 2018), gives more detailed analysis of FICO's rating in the Market Update report*.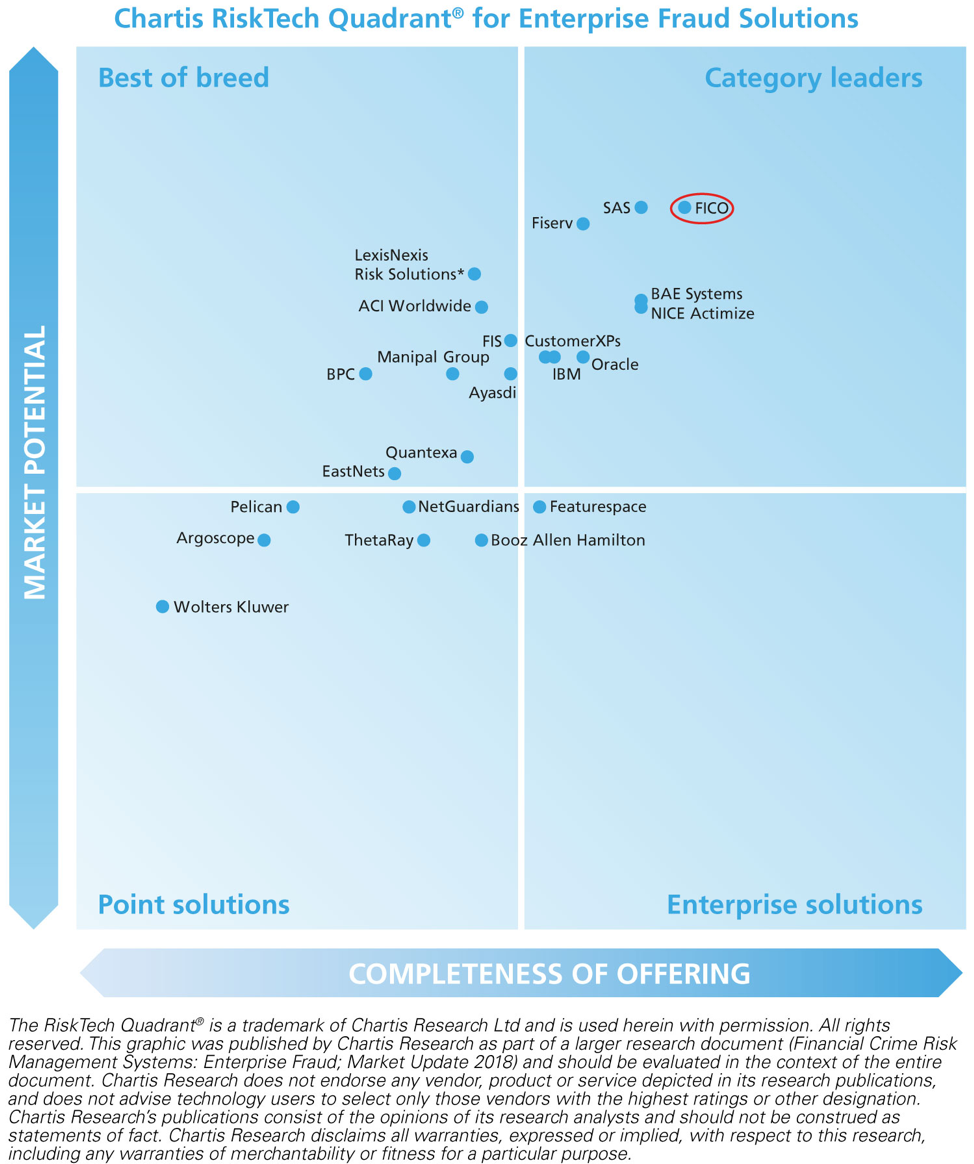 "FICO's capabilities across a broad selection of antifraud functions gave it consistently good scores across the six completeness of offering categories," the report says. "In particular, its 'cognitive analytics' – central to its Falcon Platform, which the company has been developing and strengthening – and its variety of specific solutions gave it a high score for payment fraud capabilities."
"FICO was also notable for its pre-packaged fraud detection rules and scenarios, with simple connections to third-party data analysis and a choice of analytics, including the option to develop open-source machine learning libraries. Its extensive range of detection techniques (including the use of ML and Artificial Intelligence [AI]) gave it a high score for that specific criterion, while its ongoing research and provision of converged fraud and compliance capabilities also featured strongly in its scoring."
Beyond technology, geographic coverage was a factor in FICO's ranking. "FICO's geographic expansion was especially notable, including strong growth in its European business and significant client wins in Latin America and Asia-Pacific," the report says. "Its strong client base in credit risk, alongside robust financials and a comprehensive strategy for ongoing growth, also helped to steer FICO to its category leader status."
The report also calls out FICO's use of supervised, semi-supervised and unsupervised AI techniques, which FICO applies across payment types, including real-time payments, mobile wallets, peer-to-peer transfers, payment cards, card-not-present transactions and account takeover.
"Our analysis reflects the breadth of FICO's solutions, and its strategy for enterprise fraud management," said Rob Stubbs, Head of Research at Chartis. "Through its work with financial services providers around the world, the FICO team has developed an understanding of fraud and financial crime prevention, and continues to develop its product roadmap."
"This report validates our holistic approach to payments fraud and financial crime," said TJ Horan, vice president of fraud solutions at FICO. "We have spent years building the FICO Falcon Platform into an unbeatable solution for enterprise fraud management."
The FICO® Falcon® Platform, the world's most intelligent fraud platform, advances the consumer experience by extracting frauds from real time payment streams while remaining invisible during legitimate transactions. Powered by more than 80 patents in fraud-specific machine learning and AI, the FICO® Falcon® Platform helps financial institutions detect and prevent fraud seamlessly, in real time. More than 2.6 billion payment accounts worldwide are protected by Falcon.
Last month, FICO was named a category winner in the 2019 Chartis' RiskTech100® report, which ranks the top 100 risk technology providers, and recognizes success in specific risk and compliance categories. FICO won awards in three categories: Innovation, AI, and Cyber Risk Quantification.
About FICO
FICO (NYSE: FICO) powers decisions that help people and businesses around the world prosper. Founded in 1956 and based in Silicon Valley, the company is a pioneer in the use of predictive analytics and data science to improve operational decisions. FICO holds more than 190 US and foreign patents on technologies that increase profitability, customer satisfaction and growth for businesses in financial services, telecommunications, health care, retail and many other industries. Using FICO solutions, businesses in more than 100 countries do everything from protecting 2.6 billion payment cards from fraud, to helping people get credit, to ensuring that millions of airplanes and rental cars are in the right place at the right time. Learn more at https://www.fico.com
About Chartis Research
Chartis Research is the leading provider of research and analysis on the global market for risk technology. It is part of Infopro Digital, which owns market-leading brands such as Risk and WatersTechnology. Chartis' goal is to support enterprises as they drive business performance through improved risk management, corporate governance and compliance, and to help clients make informed technology and business decisions by providing in-depth analysis and actionable advice on virtually all aspects of risk technology.
RiskTech100®, RiskTech Quadrant®, FinTech Quadrant™ and The Risk Enabled Enterprise® are Registered Trade Marks of Infopro Digital Services Limited.
*Note that these statements were published by Chartis Research as part of a larger research document (Vendor Analysis: FICO; Financial Crime Risk Management Systems: Enterprise Fraud, Market Update 2018) and should be evaluated in the context of the entire document. Chartis evaluates all vendors using consistent and objective criteria, and does not endorse any vendor, product or service depicted in its research publications, nor does it advise technology users to select only those vendors with the highest ratings or other designation. Chartis Research's publications consist of the opinions of its research analysts and should not be construed as statements of fact.
Media Contact
Greg Jawski for FICO
Email: greg.jawski@porternovelli.com
Phone: +1 212-601-8248
Take the next step
Connect with FICO for answers to all your product and solution questions. Interested in becoming a business partner? Contact us to learn more. We look forward to hearing from you.