FICO Research Shows Mortgage Delinquencies Rise for Older Americans
New research by FICO reveals that that mortgage delinquency rates rise for US consumers beyond a certain age.
Scoring Solutions
SAN JOSE, Calif. — October 19, 2016
New research by analytic software firm FICO reveals that that mortgage delinquency rates rise for US consumers beyond a certain age. FICO data scientist Scott Shulz, who discussed his team's research on the FICO Blog, points out that while older people have higher credit scores in general than young people, both mortgage and auto delinquencies are rising for many older Americans. The FICO® Score does not consider age in its score calculation.
FICO's chart shows the serious delinquency rate (90+ days past due) by age over the prior two years for various credit products. The analysis is limited to consumers with activity during the period. 90+ delinquency rates for mortgages and other closed-end loans reach their lowest points for consumers in their late 60s or early 70s, before rising again. Conversely, delinquency rates for revolving trade lines (which include credit cards) decrease throughout consumers' lives.
"For most loan types, delinquencies peak when consumers are in their 20s and starting to take loans," said Schulz. "Mortgage delinquencies have a flatter curve and peak later, at age 44. Delinquency rates rise for auto loans and mortgages held by people in their late 60s, but only for mortgages do they get near their earlier peak."
While their delinquency rates may increase, older Americans represent a relatively small portion of the total debt tracked by the bureaus. Consumers aged 67 or older represent 20 percent of the bureau population, but they have only 11 percent of the total debt on the bureau, and only 11 percent of mortgage balances.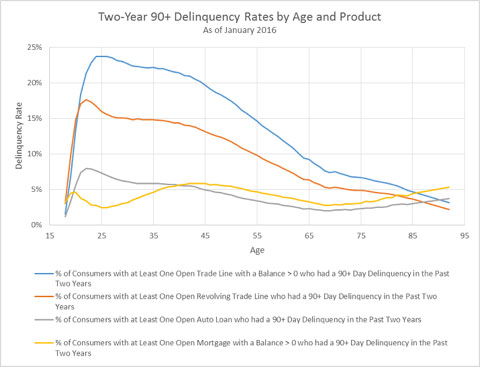 Are Failing Memories the Cause?
As observed in a recent report by the Mortgage Bankers Association, mortgage delinquency rates do increase for consumers past age 68. The MBA report suggested that these increases were due, in large part, to failing memories in older consumers.
"It may be that older people forget to pay their bills sometimes, but there are other possible reasons," Schulz said. "Much of the delinquency uptick is driven by a relatively small number of borrowers who still have sizeable mortgage and auto debts into their 70s and 80s. This suggests that some delinquencies may very well be due to a common occurrence in lending – those who have the resources pay off their loans over time, leaving only those more financially strapped consumers in the loan pool."
For discussion of this and related topics from FICO experts, subscribe to the FICO Blog.
About FICO
FICO (NYSE: FICO) powers decisions that help people and businesses around the world prosper. Founded in 1956 and based in Silicon Valley, the company is a pioneer in the use of predictive analytics and data science to improve operational decisions. FICO holds more than 165 US and foreign patents on technologies that increase profitability, customer satisfaction and growth for businesses in financial services, telecommunications, health care, retail and many other industries. Using FICO solutions, businesses in more than 100 countries do everything from protecting 2.6 billion payment cards from fraud, to helping people get credit, to ensuring that millions of airplanes and rental cars are in the right place at the right time. Learn more at http://www.fico.com.
Join the conversation at https://twitter.com/fico & http://www.fico.com/en/blogs/
For FICO news and media resources, visit www.fico.com/news.
FICO is a registered trademark of Fair Isaac Corporation in the United States and in other countries.
Take the next step
Connect with FICO for answers to all your product and solution questions. Interested in becoming a business partner? Contact us to learn more. We look forward to hearing from you.