Forderungsmanagement steht vor Corona-Tsunami
Corporate News
Nach mehr als einer Dekade mit guten Wirtschaftsdaten, Vollbeschäftigung und geringen Ausfallquoten bei Finanzierungen ist das Forderungsmanagement aus dem Blickfeld vieler Banken geraten. Weil sich Investitionen oft auf das regulatorisch notwendige beschränkten, haben viele Marktteilnehmer den Anschluss an international übliche Praktiken verloren. In dieser Blog-Serie beschäftige ich mich mit den Themen, die nun angepackt werden müssen.
Die Plötzlichkeit, mit der die Corona-Pandemie über Deutschland hereingebrochen ist, lässt nun wenig Zeit für eine strategische Neuausrichtung im Forderungsmanagement. Angesichts der absehbaren wirtschaftlichen Eintrübung werden sich die Fachbereiche auf eine Vielzahl von Kunden einstellen müssen, die ihre regulären Ratenzahlungen nicht in voller Höhe wieder aufnehmen können. Sollte es zu einer anhaltenden Rezession kommen, werden im Forderungsmanagement Stückzahlen zu bewältigen sein, die man sich bisher kaum vorstellen konnte. Dann wird nicht nur die Bewältigung der Mengen zu einer Herausforderung, sondern vor allem auch die Begrenzung der damit verbundenen Risikokosten.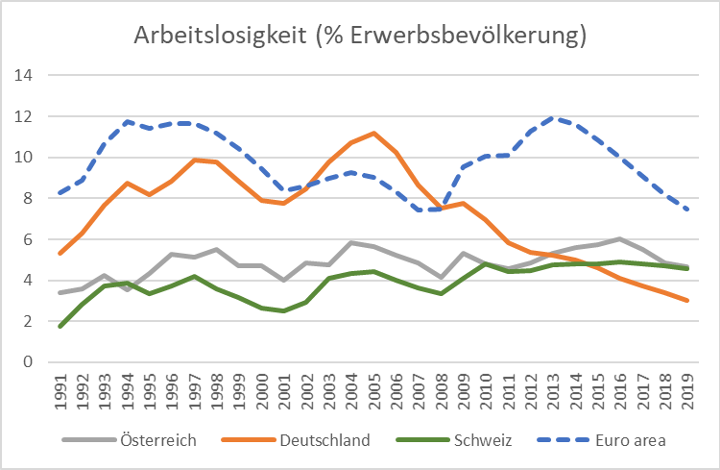 Abbildung 1: In Deutschland, Österreich und der Schweiz lag die Arbeitslosigkeit in den vergangenen dreißig Jahren fast durchgehend unter dem Durchschnitt der Euro-Länder. Anfang dieses Jahres herrschte in allen drei Ländern praktisch Vollbeschäftigung. Viele Führungskräfte und Mitarbeiter im Forderungsmanagement haben in ihrer gesamten Berufslaufbahn keine echte Wirtschaftskrise erlebt. Sollte es nun zu einer pandemie-induzierten Rezession kommen, fehlen im Collections in vieler Unternehmen Prozesse, Erfahrung und Technologie zur Bewältigung erheblich höhere Stückzahlen und eines höheren Anteils von Kunden mit strukturellen Zahlungsschwierigkeiten. (Datenquelle: Weltbank, https://data.worldbank.org/indicator/SL.UEM.TOTL.ZS)
Bei vielen Kreditnehmern, die nun in wirtschaftliche Schwierigkeiten kommen, handelt es sich um sonst gute (verlässliche?) Kunden in schwierigen Umständen. Die Erfahrung vergangener Krisen zeigt, dass sich solche Kunden um eine schnelle wirtschaftliche Rehabilitierung bemühen und sich auch in absehbarer Zeit wieder finanziell stabilisieren. Banken, die ihren Kunden in schwierigen Zeiten Lösungen anbieten können, die für beide Seiten tragbar sind, vermeiden nicht nur unnötige Verluste, sondern sie stärken auch die Kundenbindung erheblich und sichern so zukünftige Umsätze.
Für eine Vorbereitung auf einen möglichen Tsunami bleibt nicht viel Zeit. Deshalb ist zunächst eine Konzentration auf taktische Maßnahmen notwendig:
Höhere Stückzahlen erfordern eine stärkere Fokussierung der verfügbaren Mitarbeiter auf relevante Konten und einen höheren Automatisierungsgrad bei der Abwicklung einfacher Vorgänge. Automatische Kommunikationsplattformen ermöglichen die vollautomatische, interaktive Ansprache der Kunden über Sprache, Textnachrichten und Chat. Solche cloudbasierten Lösungen lassen sich mit minimalem Integrationsaufwand innerhalb kürzester Zeit an den Start bringen und sind dabei praktisch beliebig skalierbar. Sie ermöglichen die vollautomatische Abwicklung der einfachen Fälle einschließlich der Entgegennahme von Zahlungsversprechen. Mit etwas mehr Integrationsaufwand können sie sogar Vereinbarungen, die keine weitere detaillierte Klärung erfordern, anstoßen, wie beispielsweise die Verlegung von Ratenfälligkeiten, einen erneuten Lastschrift-Einzug oder sogar einfache Ratenplanänderungen. Gleichzeitig ermöglichen sie dem Kunden eine Erledigung der Angelegenheit ohne einen, im Zusammenhang mit Zahlungsschwierigkeiten oft als unangenehm empfundenen, persönlichen Kontakt - und das rund um die Uhr, auch außerhalb der üblichen Büro-Arbeitszeiten.
Steigende Stückzahlen werden die operativen Abteilungen zwingen, ihre Maßnahmen auf die wichtigen Fälle zu konzentrieren. Dabei hilft die Kenntnis der Wahrscheinlichkeit, mit der ein Kunde in das nächste Rückstandssegment weiterwandert. Für die Entwicklung von Scorekarten oder Machine Learning Modellen zur Identifikation der besonders risikoreichen Kunden wird vermutlich die Zeit bis zum Aufschlag der ersten Welle nicht reichen. Für die datenbasierte Entwicklung eines brauchbaren Klassifizierungsbaumes sollte aber noch genügend Zeit bleiben. Auch für regulatorische Zwecke entwickelte Modelle können bei der Segmentierung im Forderungsmanagement hilfreich sein, wenn man die Score-Werte in die operativen Systeme einspeisen kann.
Kunden mit nachhaltigen Zahlungsstörungen benötigen Ratenplanänderungen, die ihnen eine Überbrückung ihrer finanziellen Schwierigkeiten ermöglichen. Viele Institute haben solche Ratenplanänderungen in der Vergangenheit nur ungern vorgenommen. Entsprechend klein ist der Werkzeugkoffer, und entsprechend vernachlässigt sind oft die diesbezüglichen internen Regelwerke. Eine erfolgreiche Restrukturierung ist selbst bei wirtschaftlichen Konzessionen in der Regel wesentlich billiger als die Kündigung des Vertrages. Deshalb müssen solche Werkzeuge jetzt überarbeitet und ergänzt werden. Besonders wichtig ist auch ein Verständnis, welche Werkzeuge nach IFRS9-Gesichtspunkten für welche Kundengruppen angeboten werden sollten. Zu einem erfolgreichen Restrukturierungskonzept gehört letztlich auch die Entschlackung des entsprechenden Prozesses von unnötigem Bürokratismus, damit notwendige Vertragsanpassungen auch real zustande kommen.
Bei der Auswahl der passenden Restrukturierungsmaßnahme drängen sich mathematische Methoden geradezu auf. Denn selbst Mitarbeiter mit ausgeprägtem Zahlengefühl scheitern an der Abschätzung der Auswirkungen von Ratenplan-Änderungen auf Net Present Value, Expected Losses und Kapitalanforderungen. Mit mathematischen Methoden lassen sich Strategie-Bäume ableiten, die je nach Art und Umfang der finanziellen Beeinträchtigung des Kunden die Maßnahme auswählt, die eine bestimmte Zielvorgabe am besten erfüllt - Gerade bei einer anhaltenden Krise und hohen NPL-Quoten. Kurzfristig bietet sich immerhin an, die Ratenhöhe bei Kunden mit Zahlungsproblemen für einen Übergangszeitraum auf einen Betrag abzusenken, der mit dem verfügbaren Einkommen des Kunden bewältigbar scheint. Das Verhältnis von Ratenhöhe zu Einkommen, das bei der Kreditvergabe als höchstens noch zulässig angesehen wird, kann hierbei eine Orientierungshilfe sein. Auch in diesem Zusammenhang kann eine datengetriebene Segmentierung helfen, aussichtsreiche Sanierungen von hoffnungslosen Fällen zu trennen.
Mittelfristig werden viele Institute ohne eine Aktualisierung der technischen Infrastruktur nicht auskommen. Welche Maßnahmen hier notwendig sind, beschreibe ich in Teil 2[KS1]  dieser Serie.
Take the next step
Connect with FICO for answers to all your product and solution questions. We look forward to hearing from you.