Russians' Credit Health Is Improving, According to Data from FICO and NBKI
Scoring Solutions
MOSCOW — November 10, 2016
Top Results:
FICO® Credit Health Index for Russia has started to trend upward, following a seven-year decline
15.5 percent of Russian credit accounts were delinquent in October, compared to 16.7 percent six months ago
FICO Credit Health Index measures the percentage of delinquent consumer loans and credit cards reported to NBKI, Russia's largest credit bureau
The bad rate of Russian consumer loans has decreased slightly for the second straight quarter, according to October data from analytic software company FICO and National Bureau of Credit Histories (NBKI), Russia's leading credit bureau. The FICO® Credit Health Index stood at 91, its highest point since July 2015, when the seven-year decline ended. 
"We are cautiously optimistic about this rise in the FICO Credit Health Index," said Evgeni Shtemanetyan, who directs FICO's operations in Russia. "Consumers' payments are stabilizing, showing that the country overall has a better credit habits and is learning to adjust to new types of credit. However, good customer risk management and collections practices are still very important for Russian lenders."
The FICO Credit Health Index measures Russia's overall credit health, based on the percentage of consumer loans and credit cards reported to NBKI that are delinquent by more than 60 days. The October 2016 index of 91 means that 15.5 percent of Russian credit accounts were delinquent, compared to 16.7 percent six months ago. However, the bad rate is still more than twice the level of the index's peak in January 2012, when just 7 percent of accounts were delinquent.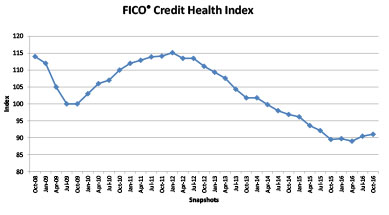 Source: FICO and NBKI
All eight federal regions have an average FICO Credit Health Index below the benchmark of 100, but have stabilized their indices over the past four quarters. Centralnyi, Severo – Kavkazskii and Severo-Zapadnyi have all experienced a slight increase since last quarter.
"As we said earlier, the peak of overdue debts occurred in 2015 and early 2016, and after that the situation with 'bad' debts has stabilized," said Alexander Vikulin, CEO of NBKI. "However, key risks remain the same – the decline in real incomes. If this trend continues, the likelihood of defaults for all retail credit products will only rise. Therefore, lenders need to continue to closely monitor market indicators such as the PTI (payment to income), as well as to put portfolios of all types of loans, including secured ones, on the 'signal' (online monitoring of the financial behavior of borrowers)."
FICO and NBKI share this data with Russian lenders to improve their understanding of the credit market, and help them extend credit to consumers safely and profitably. More than half of the top Russian banks use FICO® Scores delivered by NBKI.
About NBKI
National Bureau of Credit Histories (NBKI) is the largest credit bureau in the Russian Federation. It was created in 2005, and counts among its shareholders major commercial banks and international companies CRIF and TransUnion. Its main specialty is an integrated center that stores and processes comprehensive data for creditors' decision making. As of April 2016, NBKI consolidates data about 77 million borrowers and 184 million loans from 3800 Russian creditors. The bureau provides the Russian market with modern high-tech solutions for risk assessment and control.
About FICO
FICO (NYSE: FICO) powers decisions that help people and businesses around the world prosper. Founded in 1956 and based in Silicon Valley, the company is a pioneer in the use of predictive analytics and data science to improve operational decisions. FICO holds more than 170 US and foreign patents on technologies that increase profitability, customer satisfaction and growth for businesses in financial services, telecommunications, health care, retail and many other industries. Businesses in more than 100 countries use FICO solutions for a wide range of mission-critical applications, from protecting 2.6 billion payment cards from fraud, to helping people get credit, to ensuring that millions of airplanes and rental cars are in the right place at the right time. Learn more at http://www.fico.com.
For FICO news and media resources, visit www.fico.com/news.
FICO is a registered trademark of Fair Isaac Corporation in the U.S. and other countries.
Take the next step
Connect with FICO for answers to all your product and solution questions. Interested in becoming a business partner? Contact us to learn more. We look forward to hearing from you.