FICO Survey: APAC Banks Lag Behind US and UK in Integrating Fraud and AML Compliance Functions
Only 18 percent say they have a strategic plan to fully integrate functions
Surveys & Market Data
SINGAPORE — March 5, 2020
Highlights:
Only 18 percent of Asia Pacific banks have a strategic plan to fully integrate their fraud and anti-money laundering compliance functions, while 38 percent prefer a more tactical approach, to actively share resources where synergies exist.
Most Asia Pacific banks currently run fraud and financial crime compliance functions that are fully separate or only have a low level of collaboration.
61 percent of Asia Pacific banks are keen to achieve their convergence ambitions in three years or less.  
More information: https://www.fico.com/en/products/falcon-x
A recent survey by global analytics software firm FICO has revealed that only 18 percent of Asia Pacific (APAC) banks have a strategic plan to fully integrate their fraud and anti-money laundering (AML) compliance functions, even though 71 percent say that convergence will improve the ability to stop fraud and financial crimes.
This puts their planning efforts significantly behind that of their Western peers. In an earlier survey commissioned by FICO in 2019, 24 percent of US banks and 47 percent of UK banks had strategic plans to fully integrate functions. FICO estimates that 80 percent of the functionality to do fraud checks and AML checks on a new account opening is the same.
Most Asia Pacific banks (38 percent) are instead actively looking at a more tactical approach, actively sharing resources where synergies exist. Examples of this being the sharing of data, controls or staff. Just 12 percent of banks in both the US and UK said they were pursuing this approach.
"What we are seeing in Asia Pacific is most likely the fast-follower mentality coming through," said Timothy Choon, FICO's Compliance Lead in Asia Pacific. "Many banks in region are closely watching those who are making the change overseas to see what lessons they can learn from first-movers before embarking on a similar program of change."
When asked about current levels of integration, most banks in Asia Pacific admitted they currently had siloed operations. In terms of which areas currently operated separately or had low levels of collaboration, 95 percent nominated controls, 94 percent detection systems and 91 percent investigative systems.
In contrast, 82 percent of banks in the UK reported either full integration or a high level of collaboration for detection systems, and 76 percent for controls.
Current level of integration between fraud and financial crime compliance functions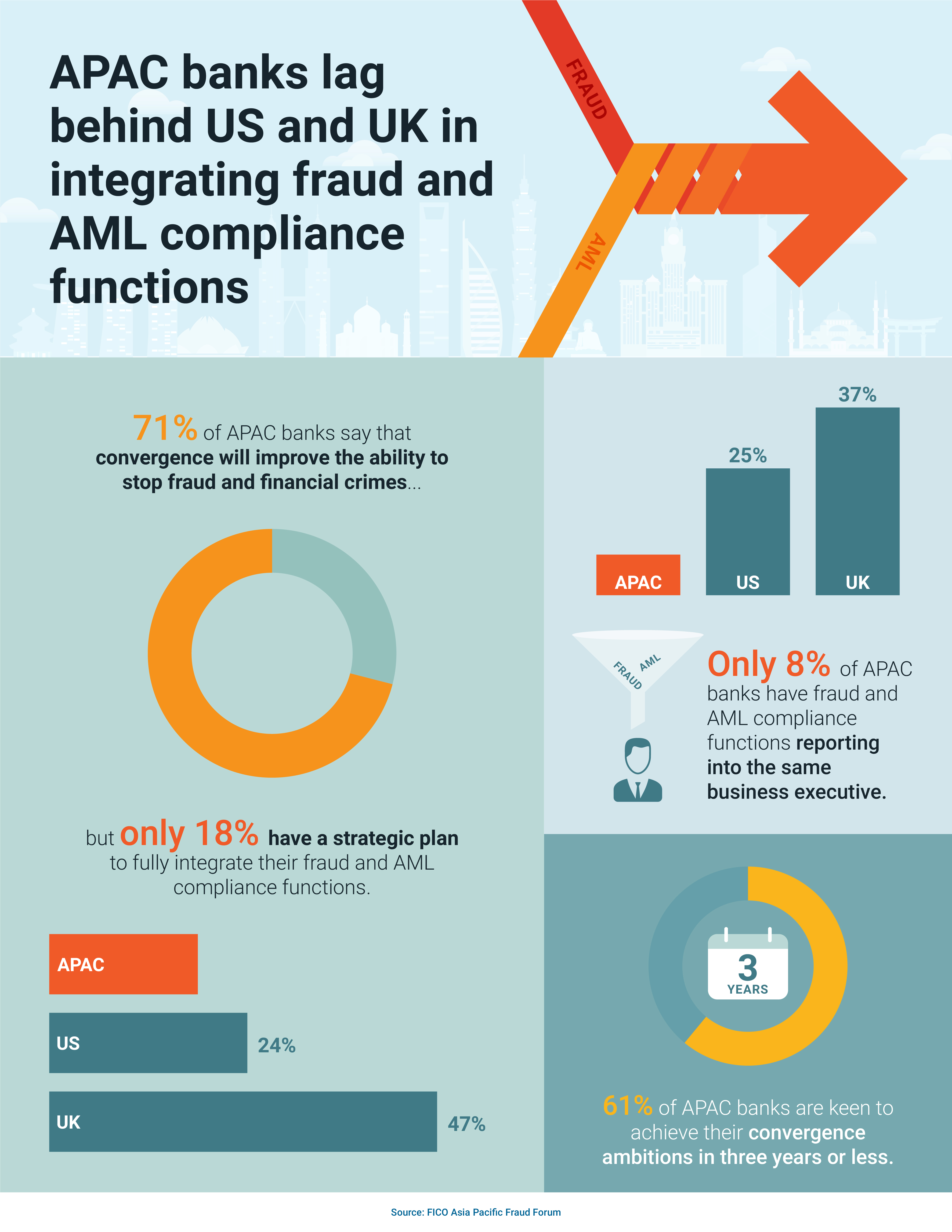 Top Areas
APAC
UK
US
1
Reporting lines –
8% very integrated
Investigation Systems –
53% very integrated
Data –
27% very integrated
2
Data –
3% very integrated
Detection Systems –
35% very integrated
Investigation Systems –
24% very integrated
3
Investigation systems –
3% very integrated
Data –
24% very integrated
Controls –
24% very integrated
 
"Overseas banks have moved to convergence sooner in response to new criminal threats and punishing fines," said Choon. "The same is happening in Asia Pacific but the pace has been slower due to different regulation, lower losses and a more fragmented market. The historical legacy of separate departments and leadership is also a factor, as there has been more change at the top overseas, which hastens the integration process."
Only 8 percent of APAC banks have fraud and AML compliance functions reporting into the same business executive. This remains very low when compared to the US where about a quarter of banks have just the one leader or European banks where 37 percent have integrated the functions under one manager.
"While the vast majority of banks in the Asia Pacific understand the benefits of integrating their financial crime functions, they are not currently as integrated as banks in other countries and don't intend to integrate as tightly," explained Choon. "Their timescales to achieve their plans are ambitious however, so in addition to watching for the best practices of the first-movers, they will also need to adopt the best of new breed of technologies that have been developed to work across fraud and financial crime."
FICO surveyed 45 executives from financial institutions across the region at its annual FICO Asia Pacific Fraud Forum held in Singapore.
About FICO
FICO (NYSE: FICO) powers decisions that help people and businesses around the world prosper. Founded in 1956 and based in Silicon Valley, the company is a pioneer in the use of predictive analytics and data science to improve operational decisions. FICO holds more than 195 US and foreign patents on technologies that increase profitability, customer satisfaction and growth for businesses in financial services, manufacturing, telecommunications, health care, retail and many other industries. Using FICO solutions, businesses in more than 100 countries do everything from protecting 2.6 billion payment cards from fraud, to helping people get credit, to ensuring that millions of airplanes and rental cars are in the right place at the right time.
Learn more at www.fico.com.
Join the conversation on Twitter at @FICOnews_APAC.
FICO is a registered trademark of Fair Isaac Corporation in the US and other countries                                                                                                                  
Contacts:
Neil Mirano
RICE for FICO
+65 3157 5680
neil.mirano@ricecomms.com
Saxon Shirley
FICO
+65 9171 0965
saxonshirley@fico.com
Take the next step
Connect with FICO for answers to all your product and solution questions. Interested in becoming a business partner? Contact us to learn more. We look forward to hearing from you.